Battery Management Solutions
MPS provides easy-to-use programmable battery management solutions, which utilize our silicon technology to achieve a high level of integration and excellent thermal performance. Our extensive portfolio features battery charger ICs with integrated-MOSFETs supporting different battery pack chemistries and configurations of 1 to 6 series cells and charge currents up to the 5A
High-efficiency switching charger ICs: excellent thermals while achieving fast charging speed
Compact linear charger ICs: accurate low-current solutions for space-constrained designs with small batteries
Safety focused: JEITA NTC monitoring, charge & watchdog timers, UV/OV protection, and thermal regulation
USB compatible: solutions for micro-USB, USB-C, USB-A output power, and USB power delivery
Automotive application ready


Excellent thermal performance


Reduces space requirements


MPS offers a full catalog of high performance power management solutions for today's demanding automotive applications. These products are designed to tackle key automotive application challenges like load dump, cold crank, reduced EMI, and low power. Our catalog of AEC-Q100 qualified devices can offer a total system solution, from DC/DC converters and motor drivers to fully integrated USB chargers and LED drivers.
Featured BMS Part
4.5A I2C Controlled Buck Charger with NVDC Power Path and USB OTG
Highly-integrated switching-mode battery charge management device for single-cell Li-ion or Li-polymer battery. This device with NVDC system power path management is suitable for a variety of applications such as smartphone, tablets, wireless cameras and other portable devices. Its low impedance power path optimizes efficiency, reduces battery charging time and extends battery life. The I2C serial interface with charging and system settings allow the device to be flexibly controlled.
The MP2629 supports 5V input sources, including standard USB host port, USB charging port and USB compliant wall adapter. The MP2629 provides USB input type detection via DP/DM pins.
The MP2629 supports USB On-The-Go operation by supplying 5V on input bus with output current limit up to 3.0A.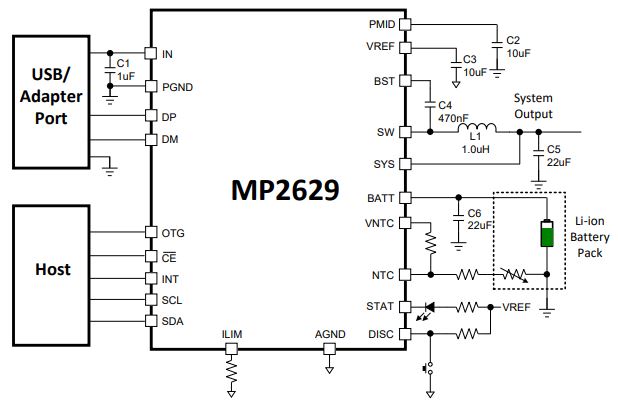 MP2629